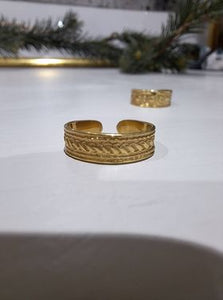 A multi purpose piece, an ear cuff, a toe ring or a knuckle ring. A versatile piece that can be worn in many different ways depending on how you feel like styling it. 
Materials and Dimensions:
- Metal 9k Gold (375)
- Internal diameter 1.3cm
- opening: 4mm
- Width: 4mm
- Adjustable Size
All of our jewellery is handmade. Please allow 3-5 business days for shipping.
We would like to advise you that due to our jewelry being handmade we are very careful with our production process, yet our jewelry can sometimes be slightly different than the photo. Handmade items are always imperfectly perfect.